COFFEE HEAD OFFICE SWITZERLAND
Company: Gustus GmbH, Aathalstrasse 84, CH-8610Uster, Switzerland
VAT: CHE-109.851.341
Company identification number: (GLN): 7640128110002
Place of jurisdiction: Uster
Purpose: The purpose of the company is trade, organisation and consulting in the field of coffee and tea.

Domicile: Aathalstrasse 84, 4th floor, Trümpler Areal, CH-8610 Uster
Domicile: CH-8610 Uster (ZH) Switzerland
Phone: +41 (44) 941 50 55
E-mail: Contact mail
We are neither obliged nor willing to participate in a dispute resolution procedure before a consumer arbitration board.
KAFFEEZENTRALE IS A MEMBER OF THE SCA SWITZERLAND - SPECIALITY COFFEE ACCOCIATION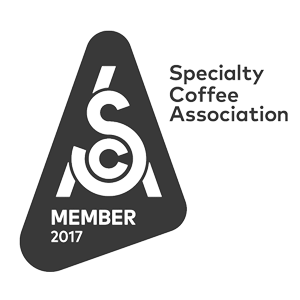 SCA MemberSpeciality coffees are top quality coffees with unique taste characteristics, grown under the best conditions and therefore only available in limited quantities. Professionally prepared and brewed, they produce coffees of high sensory qualities in the cup.
→ SCA Switzerland → SCA International
LIABILITY NOTICE
Despite careful control of the contents, we do not assume any liability for the contents of external links. The operators of linked sites are solely responsible for their content.
TRADEMARK PROTECTION KAFFEEZENTRALE
The word and figurative marks of Kaffeezentrale Schweiz are registered with the Swiss Federal Institute of Intellectual Property.